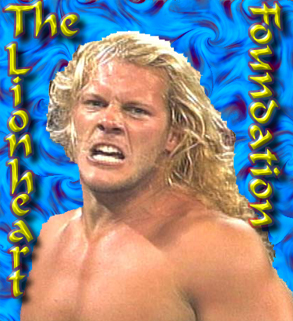 WELCOME


This site, originally launched during the summer of '98, was down for some time. Now, with a little extra time and my renewed faith in Chris Jericho, The LionHeart Foundation is once again alive!!

Chris Jericho, a five time WCW World Cruiserweight Champion and former WCW World Television Champion, is the most talented young star in WCW history! He has beaten, and humiliated, the best of WCW's roster! Jericho is the one and only phenom of WCW!!

Chris is apparently touring with the metal band "Fozzy Ozzbourne". I hear he does a pretty dead-on Micheal "P.S." Hayes impersonation too. :) Anyway, I also heard that the band is cool too. I guess Chris finally has something stable to fall back on now...in case this wrestling thing dosen't work out for him. ;)

Enjoy the site!
---
Name: "Lionheart" Chris Jericho
Real Name: Chris Irvine
Weight: 225 lbs.
Height: 6' 0"
Birthdate: November 9th, 1970
Born(City): New York, New York
Hometown: Winnepeg, Manitoba, Canada
Current Lives In: Orlando, Florida, USA
Training: Hart Brothers Pro Wrestling Camp(Calgary)
Pro Debut: October 2nd, 1990
Father: Ted Irvine(NHL player late '60s-late '70s)
E-Mail: wallofjericho@webtv.net
Website: http://www.chrisjericho.com
note: if any of the above info is incorrect...please let me know.
---
Shoot With The Jerichoholics
Mark Out With Me Baby
---


To link to this banner, simply use the following html:

<a href="http://members.tripod.com/~jericho4/index.html"><img src="http://members.tripod.com/~jericho4/Lionbanner.JPG" border="0"></a>
---
Special Legal Notice: *All images on this site(except the logo & banner) do not belong to me. Don't ask me if you can take them because they're not mine. If I took one of your images, don't get pissed, just e-mail me and ask me to get rid of it. I will promise to "NEEEEEVER....EEEEEEEEVER do it again".*

---
LionHeart Foundation logo & banner created by the one and only Friar
LionHeart Foundation page created by Ken

copyright © 1998 LionHeart Foundation